"Extra Life, Deep Cycles, German Technology"
Module mounting Structure is a critical item that can help generate more power. Solarin Advance Mounting Structure is easy to install without causing damage to the roof. . Its flexible tilt angle can also help maximize power generation by adjusting seasonal tilt 3 times a year.
Features

Prefabricated: Solarin structure requires no welding, It is ready to use and easy to transport.
Damage free rooftop installation: Structure can be fastened in the floor and designed to use weight to hold the structure in place.
Engineered for heavy wind protection: Designed so that the wind flows creating minimal wind pressure in case of high wind conditions
Quick installation: Designed for quickest installation.
Adjustable Angle: for optimal performance can be installed at different angles based on the place the power plant is installed.
Cost effective: Ease of installation saves time, better power output makes it cost effective.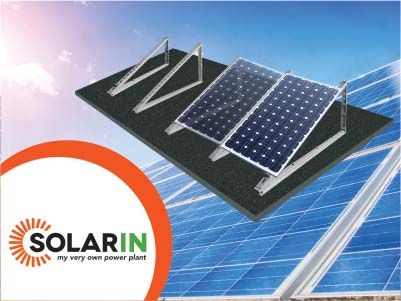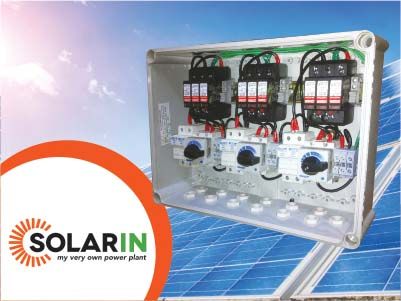 "Customized Junction Box For Every Solar Power Plant "
For ideal Solar installation, Solarin Array Junction Box is meant for combining all the incoming lines from solar panels / Arrays and deriving one common array output for the multiple array inputs. Highly Functional Solarin Junction Box is fabricated with the most advanced technology. Solarin Junction Box is Specifically designed for every Solar Power Plant for its flawless functioning and durability of the plant.
Features

Degree of Protection: IP65
Highly insulated ensuring the protection against electric shocks.
High Quality Polycarbonate enclosure is whether resistant.
Effective Isolation and Isolator switches which meet the demand of PV Power Plants.
Surge / Transient protection for Solar Power Plan with pluggable surge protection devices
Over Current and Short Circuit protection
"Solarin Advance Cables, Deliver Maximum Power From The Sun With Minimum Losses "
Solarin Cables are advance cables made to minimize resistance and last longer. Ordinary cables cause more resistance that obstructs the delivery of power generated from the sun. Cheaper cables may seem cheaper but in the long run it costs more by loosing the precious power generated from your investment. Do not let your investment loose its value Use only Solarin Cables.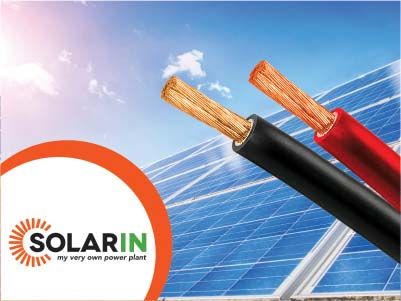 Size (Sq.mm)
No. of Strand/StrandDia.
Insulation Thickness(mm)
Overall Dia. (mm)
Current carrying capacity (Amp.)
Resistance per 1km at 20° (ohm)
Remarks
Single Core PVC insulated COPPER conductor (Unheated) wire in voltage grade upto & including 1100V
4
56/0.3
0.8
4.80
24
4.95

Single Core
6
84/0.3
0.8
5.60
31
3.30
Single Core
10
141/0.3
1.0
8.00
51
1.91
Single Core
16
126/0.4
1.0
9.60
68

1.21
Single Core
SolarIn Advance Hitech Solar Batteries
2.5
80/0.2
0.7
10.50
20
7.98
Two Core
4.0
56/0.3
0.8
12.00
26
4.95
Two Core
What would you like to do?
Don't show me these options
Quick Query